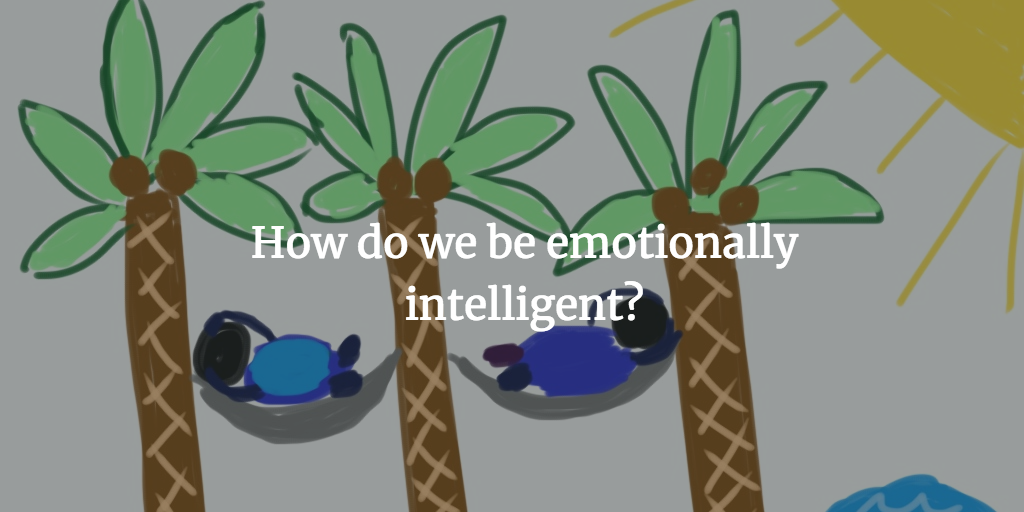 "If you want maximal productivity and you want work that gets the best results, you want the people doing the work to be in the optimal brain state for the work. You are a person who can evict them from the zone of optimal performance by slothfully handling your own interactions with them. So it is up to you to take responsibility for your impact on their ability to do their best."—Daniel Goleman

Studies show that people with high levels of emotional intelligence experience greater job performance, stronger leadership skills, greater mental health and wellbeing and overall more success. Research supports that intellectual intelligence only accounts for about 20% of success and emotional intelligence is the significant differentiating factor. 

How do we be emotionally intelligent? It takes practice, the development of habits of self-awareness, and increased awareness in our interactions.  

Emotional intelligence involves becoming self-aware and honing the ability to manage our reactions. In addition, it involves being aware of others and successfully managing our relationships.  

I have worked with many leaders and organizations to share the key habits of emotional and social intelligence. It is useful to appreciate that emotions are contagious and that we are influencing others as our relationships influence us. We need to pay attention and take responsibility to create a positive and productive environment. I often ask myself if I am experiencing an oasis with others or more of the challenging experience of being in the arid desert heat. The metaphor helps me to pay attention and work to create an open environment in which I am listening and curious.

There are a few key OASIS moves of emotional intelligence. First, Observation—notice your environment, recognizing that we are each noticing different things based on our background conditioning. Next, Awareness—make it a habit of checking in and noticing your assumptions, emotions and how your background influences your thoughts and emotions. We know that our thoughts are influencing our interactions and by noticing our thoughts we have more choices than just reacting. The key skill is recognizing when we are closed or in judgment and Shift to being open. It is the open, oasis state that supports others in being open to us and to possibilities. Then you can focus on understanding what is Important to you, another and both of you. Then you are positioned to explore options and create agreements and Solutions. 

Each of these moves can easily be learned and are concrete ways to be emotionally intelligent and create positive and productive interactions. We have opportunities to practice throughout our days at work and at home. For example, Ray, a manager,  became frustrated when he believed a team member did not complete a project.  He noticed tightness in his chest and his feeling of irritation. Here he recognized that he was not experiencing an oasis with the team member. He acknowledged his contraction and shifted to being open and curious about what happened. He remembered to "assume positive intent."  He was able to say to this teammate, "I notice that I have not seen the report I expected today." Since he was open, he was able to engage in a conversation and learn what was most important to his teammate. When he listened, it supported his teammate in being open and interested in his needs. After some open dialogue and empathy, they came to an agreement that the teammate had too much on his plate and had misjudged his capabilities. His teammate would be more forthright about his commitments to ease planning in the future. Now that the team member understood the importance of the report and the deadline, he shifted priorities and completed the report. The open dialogue and agreement on the solution and next steps supported the team member and enhanced their relationship. In addition to securing the report, Ray, the manager created a working environment of trust and openness. The investment Ray made in being emotionally intelligent benefitted him at work and at home. 

We can all learn to enhance our emotional intelligence. What have you found useful?
Contact us anytime at www.potentials.com.