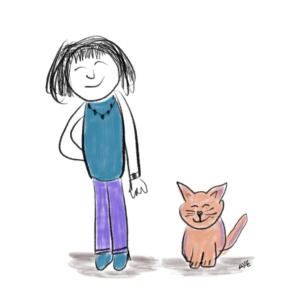 The curious paradox is that when I accept myself just as I am, then I can change.
— Carl Rogers
Compassion is essential these days. We can start with self-compassion. Like many of you, I had a lot on my plate and was trying to manage many requests and respond to the needs of people. Then I got some difficult news. I could feel a sense of overwhelm.
Kristin Neff offers a simple process that can serve each of us. First, simply notice what is happening in your body and say to yourself, "This is a moment of suffering." You might also put your hand on your heart. Next, recognize that "Suffering is a common human experience." All of us face challenges and this is a part of living on this earth. Third, we evoke compassion and kindness, "May I be kind to myself."
Yes, it is simple and this makes it easy to remember in a time of stress or self-belittlement. It corresponds to what Deb Dana and Stephen Porges talk about in Polyvagal Theory. When you feel overwhelmed, notice that your nervous system is in a survival response. They call this dorsal (freeze) or sympathetic (fight/flight) reaction. Next, recognize that we all have moments where we shift from ease into a state of protecting ourselves. Finally, we can wish for kindness and allow some ventral energy to regulate our bodies. With practice, we can develop strategies to do so with ease. For example, I focus on grounding myself in the present moment, breathing, appreciating the moment, and being grateful or optimistic that things will work out. I call this taking an Open Stance.
The great news is that when I am self-compassionate and calm my nervous system, I have more capacity to be compassionate with others. When I take an Open Stance and am feeling safe, others can experience this and it helps them to regulate and also become calmer.
Just as trees are connected by their roots we are always influencing others, both consciously and unconsciously. I can be more compassionate when I recall that everyone is being influenced by their environment and others and we, as humans, naturally become dysregulated. Compassion is one of the Open Stance Postures, when we practice compassion with ourselves and others, we are supporting wellbeing, and connections and making a difference.
Wishing you self-compassion. What supports you during challenging moments?