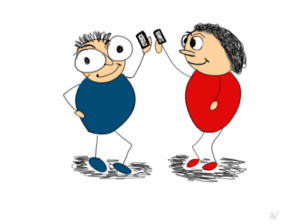 "…you cannot continuously improve interdependent systems and processes until you progressively perfect interdependent, interpersonal relationships."—Stephen Covey
People often tell me that they are worried about their teens since they communicate mostly via text rather than through conversation and direct interpersonal interactions. Sometimes teens text one another while they are in the same room. Some of my executive clients share that they rarely speak to some of their team members and broader teams and communicate primarily through email. While the benefits of technology are amazing, some wonder if we are losing some of the power of real conversations.
Between 2010 and 2015, 33% more teens report feeling useless and joyless in national surveys. Teen suicides have surged by 31%.  In a paper recently published in Clinical Psychological Science, researchers argue that this surge in depression is likely due to use of smart phones and the decrease in interpersonal connections. Teens who report more time online and less time with friends in person are more likely to be depressed.
Putting prisoners in isolation is one of the most debilitating forms of punishment.  As humans, we need connection and engagement with others to thrive. The need to belong and interpersonal connection is recognized as being fundamental to motivation and productivity. When we lack interpersonal connections, our moods suffer. Positive face-to-face interactions where we receive empathy and connect with one another is highly correlated with human satisfaction. (Baumeister & Leary, 1995)
With the disruption in society and the isolation and fear that many are experiencing people report that they feel a lack of community. While we may sense we are with people on social media, we are not giving each other empathy and understanding and not experiencing the fruits of real connection.
Emotions are contagious and MRI studies show that while we believe we are separate individuals, our energy and the flow of information is influenced by others. When we are not communicating or trusting one another, we experience dissonance.  When we engage in real conversations and build relationships, we experience resonance and psychological safety and are positioned to be innovative and are better able to execute and achieve goals.
We can use Zoom and other forums to virtually have real conversations where we listen and understand each other.  I facilitate various groups of leaders and people report gaining new insights and increased energy and amazing results that they didn't believe were possible. There is power in real conversations when we are open to listening, understanding and supporting one another.
I believe that we need to support teens, leaders and all of us in engaging in positive and productive interactions. We need to develop an open mindset and the skills for meaningful conversations to support well-being.  We will all benefit from the contagious nature of these positive interactions.
Choose to meet or call a colleague and engage in an open and respectful conversation. Notice the impact on your sense of well-being and the positive outcomes.
Contact us at any time.