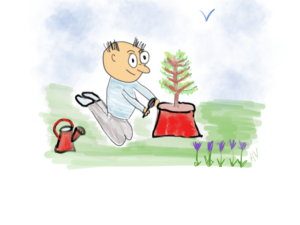 "Caring about the happiness of others, we find our own."—Plato
A highly successful manager told me she was disappointed. She had devoted many years of long days and nights to her organization and felt like she was disposable and not cared for by her boss.  Another person told me that his boss said he could not save his job in a corporate downsizing. He did not feel valued and appreciated for his contribution. Another high achiever does not feel recognized for her extraordinary impact and feels her boss does not really know or care about her.
Unfortunately, these are not isolated events.  I hear complaints from people at all levels saying they don't feel valued. This lack of genuine care results in frustration and disengagement.  You have heard the statistics by Gallop that employee engagement is less than 35%. They define engagement as "those who are involved in, enthusiastic about and committed to the work and workplace."
So much energy is wasted when people don't feel personally valued or cared about.  When we feel we are not valued or seen as an individual, we lose motivation and trust.  Managers can become so focused and pressured for results that it is easy to forget to demonstrate care for colleagues.  We can fail to show we care about family members and friends too.
Reflect on your past bosses.  How was it different for you when you knew your boss cared for you?  A colleague told me he is so much happier and more productive with his new boss who takes a personal interest in who he is and what he wants.  
When people know we care about them a sense of trust and safety evolves. When people know we care about them, we are better positioned to give them direct feedback and we are better positioned to create results together.
How can you demonstrate care?  First make the conscious decision to be caring. Visualize demonstrating care to each person on your team or in your family. It is likely to look different depending on individual styles and needs.  Ask your colleague or family member about how they are doing and show interest in their lives both in the workplace and outside. Be sure to give empathy and work to understand their perspectives. Be vulnerable yourself and share your perspective and share developments that are happening in the organization. Be candid and open yourself.  Take time to connect. 
Reflect on your colleagues and others. How are you showing you care?
Contact us at any time.