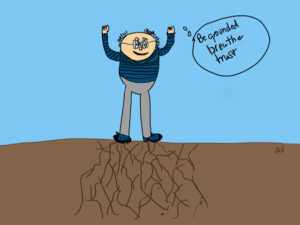 "Get yourself grounded and you can navigate even the stormiest roads in peace."—Steve Goodier
"I feel out of sorts."  "I have to give negative feedback to one of my staff." "I can't believe what she did!"  "We are not making our numbers."  "The new boss is difficult.  "I have too much on me." "He is out to get me." "My team members are fighting one another." "We need to get all of the leaders on the same page." "My elderly parent is sick." "My teenager is depressed." "There is not enough time." "My position is uncertain."
These are a few of the comments I have recently heard from executive coaching clients. We are all facing many challenges. The pace is high these days in the world and in organizations.  We need to be collaborative and innovative and execute effectively and efficiently amidst a diverse workforce. Deadlines loom and we seem to be working harder than ever with increased competition. Emotions are contagious and we pick up the uncertainty and polarization in our political system and the myriad challenges in our world.
Amidst the turmoil, we need leaders to—well…be leaders. We all need to be leaders, too, even if we don't have a formal title. Given that emotions are contagious, leaders are positioned to create positive and productive environments where people can reflect, engage in dialogue and create amazing results together.
Where should a leader start? One of the first things I recommend is to make the simple practice of being grounded. When your head is spinning with all that needs to be done, what is going wrong and all the pressure on you, it is hard to see possibilities and to be innovative.
What do I mean by being grounded? Literally, tap your feet on the ground and notice the sensations. You may imagine being like a tree with roots firmly uniting you with the sustenance of the ground. Then as you walk from one meeting to the next, let go of your worries and notice your steps on the floor. This simple practice allows you to take a break from your thoughts and to reconnect with your body. Ideally, you take a few breaths and center yourself. Recall that you are a leader and you can make a difference in your sphere of influence.
As you remain calm, you access a different part of the brain. You may even recall a place in nature or another time when you are more in a state of flow. I call this your oasis. When you access this state, a different part of your brain is activated and you can see more of the whole picture and more possibilities. You may even notice a bit of gratitude for the challenge before you and the opportunity. Sometimes it is helpful to say something like, "Things are working out."
By making it a practice of becoming grounded between meetings and even in meetings, you will be able to quickly access this grounded oasis state. It gets easier with a little practice as you build this habit.
My clients report that this simple action does indeed make a difference in how they see things and how they are perceived. They report that they feel more confident and experience success on many fronts.
Practice bringing attention to your feet and feeling grounded. Remember to breathe and recall an oasis experience. Notice your impact.
Contact us at any time.